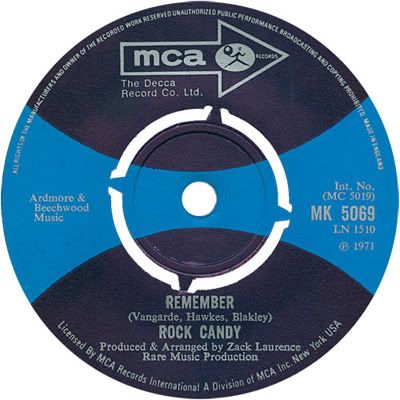 Label: MCA
Year of Release: 1971
Rumours have troubled the Internet for some time that Rock Candy, far from being a proper band, were just a seventies pseudonym for Chip Hawkes and Alan Blakley of The Tremeloes. The songwriting credits here would certainly suggest some heavy involvement with the track, but as for whether they were effectively Rock Candy (in the same manner as 100 Ton and a Feather were Jonathan King) isn't something I've been able to establish one way or another.
Whatever, the A-side here "Remember" is a happy clappy sort of ditty which sounds custom designed for drunken singalongs. Clearly it registered with a few party-goers at the time, as it managed to chart at number 32 - but that was the only hit in their career, as two further singles ("Roly" and "Some Fine Day") failed to generate the same level of interest.
More interesting to my ears is the stripped-back acoustic B-side "Don't Put Me Down", which sounds like a product of the previous decade. Elements of the track have a wistful, melancholy air which The Kinks would have happily utilised five or six years prior to this single being released, and whilst it sounds as if it might have been a demo given B-side status, it doesn't stop it from being a charming piece of work.
Naturally, as I always do when ignorance reigns, I'll finish my entry with a simple request: Anyone who knows anything more about Rock Candy, please do leave a comment with some information about their background. It's quite rare for anyone with a Top 40 hit to their name - however minor - to have such an air of mystery about them.